Today, as you know, is 09/09/09. What a cool, orderly date. All nice and round and even. Not random at all. And yet...
~ ~ ~ ~ ~

Last night we went to Liv's band orientation. There were lots of things to sign up for and everyone had to sign up for multiple things. Before the speakers were done speaking, parents were rushing the stage to get to the sign up sheets. It was an astoundingly rude display. The teacher just looked sort of helpless. I don't know what he'd do with kids who acted so rudely, but he clearly didn't know what to do with adults who showed him no respect. Many in front of their kids. And we wonder why so many kids feel like the rules don't apply to them...
~ ~ ~ ~ ~


I was a wiener this week! Blue Violet over at
A Nut in a Nutshell
ran a contest and yours truly won a coupon for $45 off $100 purchase at Old Navy. I got the coupon today and spent it tonight. Grass doesn't grow under my feet, baby. We got quite a nice little haul for the whole family, and I am most appreciative.
~ ~ ~ ~ ~


Another cool thing happened, too.
The Redhead Riter
passed along a couple goodies to me:
This one is the bookworm. It came without rules. My favorite! Not a big rule follower! The lines are not my friend! This is not really contradictory to the above bit of randomness where I complained about people thinking they were above the rules. I don't break rules if to do so would be blatantly RUDE...
Ahem.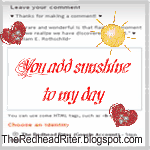 Check that out, all fancy and sparkly-like! Who adds sunshine to my day? Well YOU do, silly!
~ ~ ~ ~ ~


The other night I dreamed of pizza. This is not as unusual an occurrence as it perhaps should be. But this dream was special. I could actually taste and identify, like, every piece of pizza I'd ever eaten in my life. I wonder if this is the east coast version of having your life flash before your eyes? I remembered pizza from my childhood. Pizza from that little shop at the beach. Pizza from my grandpa's bar. Pizza from a restaurant I went to ONCE on a vacation when I was LITTLE. Pizza from every pizza shop in my small college town. To extend the old saying that pizza is like sex: even when it's bad, it's still pretty good - I guess this was the equivalent of a pizza lover's wet dream. A full-on pizza orgy. Hmmm. What shall we have for dinner tonight? Oh! I know!!!!
~ ~ ~ ~ ~
My uterus will leave me in three days. My mom will arrive in five. Anyone wanna hazard a guess as to which future event is making me more nervous? 'Future events such as these will affect you in the future.' If you actually get that reference, I don't know if I'll cheer for you or weep for you. Probably a little bit of both. I'm multi-faceted like that. Plus, I'm pretty hormonal.
~ ~ ~ ~ ~
As my sweet baby Lea would say: Peace, Love, Randomness.