I like shopping. There was a time when I loved shopping. Now I just like it. You can take away my girl badge, if you think that's necessary. But there are three things that I never liked to shop for and I don't believe I ever will. Those three things are: bras, jeans, and bathing suits.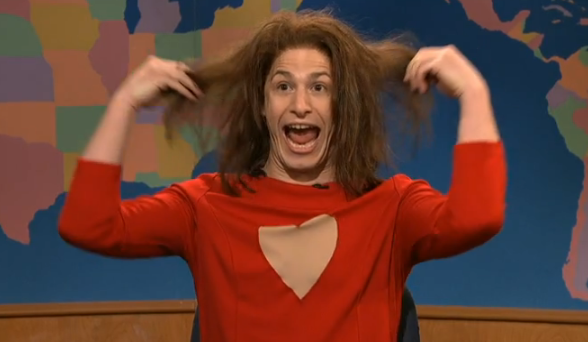 The older I get, the more dread I work up at the prospect of shopping for these cruelly necessary items. Now I suppose my choice of the word necessary could be argued on all three counts, but, come on. Asking a woman who came of age in the late 70's/early 80's to do without jeans is like asking a woman who came of age in the 40's to do without housecoats. Asking me to go without a bathing suit either keeps me off of beaches completely, which would change my demeanor in a way you would be unlikely to find pleasant, or confines me to very limited beaches where the sun would be likely to burn me in places that would, once again, make my demeanor take a turn for the decidedly unpleasant. And go without a bra? Seriously? Let's stick with, just no.
So I need to shop for these things, like it or not. Like it or not, in the very near future I will find myself in a dressing room taking my shirt off, taking my bra off, trying a bra on, putting my shirt back on, repeat, repeat, refreakin'peat until I'm so damn tired of looking at my own boobs I'll eventually settle for something that seems to fit and doesn't pinch too much. I hear stories - stories of magic and wonder - wherein women find bras that support, lift and enhance their bosums in angel soft comfort. I know beyond the shadow of a doubt that the moment I discover
that
bra, they will discontinue it.
Jeans. Deep, deep sigh. I am the not entirely uncommon pear shaped woman. I probably need say no more. But I will. I'm sure it goes without saying, even to my more proportionately distributed friends, that if I find something that accommodates my ample ass and thighs, it sags miserably around my smaller middle. When low rise jeans first came into fashion, the hubs said to me (he said) "This is perfect! Your problems are solved! You don't need to try to find something that fits both your hips and your waist, they just need to fit your hips. Go! Buy jeans!" And I went forth and I tried on jeans. And I liked them. Standing there in the dressing room mirror, I liked them more than I'd liked any jeans I'd ever owned before. I practically skipped out of the store, so anxious was I to wear my new jeans with their wonderful fit in the real world. Except in the real world? Sometimes you sit down.
And if this post had a soundtrack, this is where you'd hear a needle skipping and scratching across a record...
But I've saved the best for last, haven't I? Bathing suits. A fresh hell, revisited annually. I've started buying mine online. It's a gamble - usually a very high stakes gamble - but it keeps my fish-white-flabby thighs out of the judgmental fluorescent lights and three way mirrors of the dressing room.
But now my daughters are getting curvy.
Welcome to a whole new level of bathing suit shopping hell.
I took the girls bathing suit shopping today. Liv had to be convinced that it really was ok to show a little bit of skin. If it was entirely up to her, I think she'd wear a neck to below the knee scuba suit. Or board shorts and a T-shirt. Lea, on the other hand, needed to be convinced that a bathing suit needs to both cover everything that needs to be covered AND show some potential to continue doing so when wet. It was a hard sell. Liv ended up with a one piece halter suit. She looked lovely and I think she knew it. While admiring herself in the mirror, she said, more than once, "I can't believe how grown up I look." That makes two of us, sweetness.
Lea ended up with a tankini with boy shorts. She, also, knew exactly how good she looked. She did a little dance in front of the mirror, then announced, "If you buy me really cool sunglasses, I swear, I'll wash your car every day in this thing." Um, thank you?
I remain, despite absolutely knowing better, an unapologetic sun worshipper. But this summer, as the mom of these two, I may find myself praying for rain...